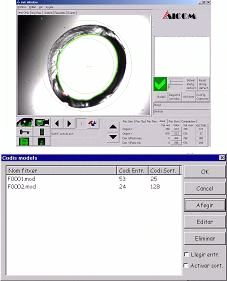 – Monitor configuration , inspect, last errors, last good parts.. .
– Positive isolation of inspected parts
– Image Hdisc Read & Write for latest analysis and testing.
– Real-Time Speed Counters . Parts/second, parts/minute, % bad parts..
– Results Counter Record. Parts, time, work lots.
– Configurable Static Record. Maintenance free. Easy export to Excel®, dBase®…
– Bad parts Image Buffer. 60 B&W images with RAM..
– Real-time production graphics. Real-Time